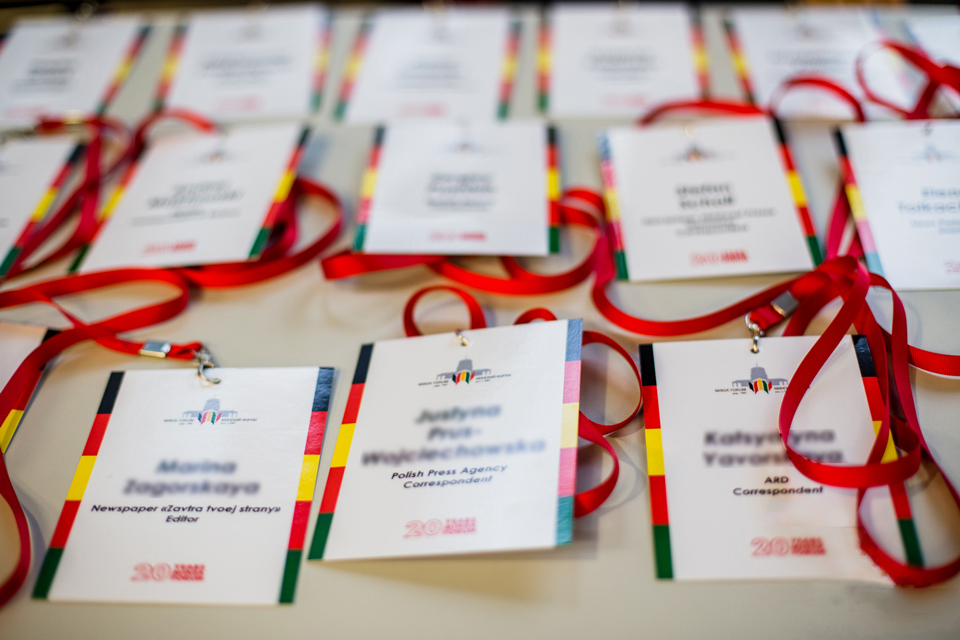 The conference will be live-streamed on the website: http://minskforum.org/en/
What are the solutions to the national crisis gripping Belarus? How can the situation be successfully reconciled? What are the prospects for this Eastern European country's democratic and economic development, and its relationship to its neighbours? These are some of the questions that will be addressed at the 18th edition of the MINSK FORUM, to be held on 2 and 3 December 2020. For the first time ever, the forum is being held online, and is being organised from Berlin, Minsk, Vilnius, Warsaw, and Kiev.
"In this year's MINSK FORUM, and at this important historical juncture for Belarus, we are calling for an end to the violence and for the release of all political prisoners. We believe that the country needs an open dialogue over its own political future. This year's forum seeks to contribute to this process," explains Mr. Markus Meckel, Chair of the conference's organiser, the German-Belarusian Society (deutsch-belarussische gesellschaft, dbg).
This year's forum will commence on Wednesday, 2 December 2020 at 11:00 a.m. (CET) with speeches by German Foreign Minister Heiko Maas, Poland's Minister of Foreign Affairs Zbigniew Rau, Belarussian presidential candidate and opposition leader Sviatlana Tsikhanouskaya, and a keynote address by historian Timothy Snyder.
Other guests sitting on the five panels include Pavel Latushka, Belarusian politician and diplomat and member of the Coordination Council, as well as Belarussian opposition politician Veranika Tsapkala, who is expected to participate in the closing discussion on Thursday, 3 December at 1:00 p.m. (CET). Klara Geywitz, deputy of the co-chairs of Germany's SPD political party, is also one of the participants.
For the first time ever, all public panels during the MINSK FORUM will be streamed live in all conference languages (German, Belarusian/Russian, and English) at www. minskforum.org/en, which will also host a moderated chat.
The MINSK FORUM has been organised by the GermanBelarusian Society (dbg) together with the Konrad Adenauer Foundation (Vilnius office), the Friedrich Ebert Foundation (Kiev office), the Heinrich Böll Foundation, the Foundation for German and Polish Cooperation (Warsaw), and the Belarusian Institute for Strategic Studies (Minsk). The conference has been made possible with the financial support of the German Federal Foreign Office and the Foundation for Polish-German Cooperation.
This will be the 18th edition of the MINSK FORUM, which was founded in 1997 to nurture a political and social dialogue with and within the former Soviet republic of Belarus.
Detailed information on the conference programme and invited guests can be found at: www.minskforum.org/en (under construction).
Contact Robert Michaelis Office Director
German-Belarussian Association
+49 178 408 67 88
Email: press@minskforum.org
---
Foto: dbg / Kate Ignashevich, 2017