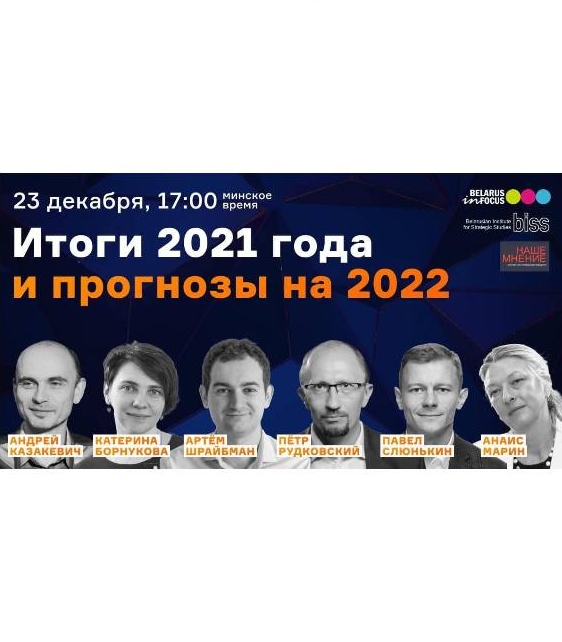 December 23rd (Thursday), at 5pm of Minsk time 
Pre-registration is required for access, details are below.
2021 became the year of the Belarusian counterrevolution. Almost all independent media and CSOs became the victims of the repressions. Almost anybody can be arrested indefinitely even if her activity is limited to online commentaries or private forwarding of news messages. Ryanair plane hijacking, migrant crisis on Belarus-EU border, and the approval of the Union State programs with Russia led to a further escalation in the foreign policy. There are also ongoing discussions regarding the effectiveness of the sanctions against the regime.
Today's open questions include:
The future of the repressions: punishment for thoughtcrimes, the purge of the purgists or a full stop?
Referendum as the beginning of the transition: how will the Constitution change and what comes next?
Economy: a continuation of the expert miracle or a sovereign debt crisis?
The reaction of the West: tougher sanctions or a careful commencement of the dialogue with the regime?
What is Russia capable of achieving? How endangered is the Belarusian independence?
Sviatlana Tsikhanouskaya and other opponents of the regime: what are their possible new strategies?
Speakers:
Andrei Kazakevich, PhD in Political Science, director of the Political Sphere Institute»;
Kateryna Bornukova, PhD in Economics, Academic Director of BEROC;
Artyom Shraibman, political analyst, a nonresident scholar at the Carnegie Moscow Center;
Piotr Rudkouski, director of the Belarusian Institute for Strategic Studies (BISS);
Anaïs Marin, PhD, UN special rapporteur on human rights in Belarus; NCN Research Fellow, University of Warsaw; Associate Fellow, Chatham House;
Pavel Slunkin, Fellow of the European Council on Foreign Relations (ECFR)
Moderators: Anton Ruliou (Belarus in Focus Information Office/Press Club Belarus), Vadim Mojeiko (BISS).
Working languages: Belarusian, Russian with interpretation into English
Video recording is envisaged. The Chatham House Rule will apply upon the participant's prior notice and will be off the record.
Organizers:
• Belarus in Focus Information Office
• Press Club Belarus
• Nashe Mneniye
• Belarusian Institute for Strategic Studies (BISS)
---
How to participate (please note that you will not be able to join the meeting after it starts):
To join the online discussion, please fill out the Google Form
https://forms.gle/dd5rFaDcAiDZSQHa9
In response, you will receive a link inviting you to join a Zoom meeting (if you do not have Zoom, you may install it on your PC, phone or tablet following the same link. It is free and easy).