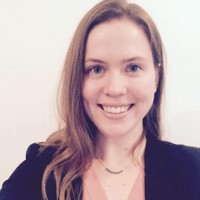 Katsiaryna Shmatsina, a political scientist, has joined the BISS team as an associated analyst. She holds a master degree in International Relations from Syracuse University, New York (2016) and a graduation degree from Belarusian State University (2013).
Previously, Katsiaryna worked for the American Bar Association where she was involved in the United Nations Development Program (UNDP), especially in the projects on good governance and rule of law in the UNDP in-country offices. She also served as a pro bono local expert on Belarus for the World Bank's Doing Business and Women, Business, and the Law reports.
In 2018, Katsiaryna was awarded a fellowship at the Daniel Morgan Graduate School of National Security, Washington DC. In 2016, she received a Civil Society Leadership Award from the Open Society Foundations.

Research interests: Belarus' foreign policy, international security, geopolitical risks, Russia, Eurasia, and NATO.

Apart from Belarusian (native), she commands Russian, English, German, and French.
At BISS, Katsiaryna will be responsible for expertise in international relations and participate in project planning.